TRX straps, also known as suspension trainers, are a popular fitness tool that can be used for a variety of exercises and workouts. The TRX straps are made up of two adjustable nylon straps with handles, which can be anchored to a sturdy overhead structure, such as a door or a ceiling mount.
One of the main benefits of TRX straps is that they allow for a full-body workout that engages multiple muscle groups at once. Because the straps require you to use your own bodyweight for resistance, you can perform a wide range of exercises that challenge your strength, endurance, and flexibility. Some common exercises include push-ups, rows, lunges, squats, and planks.
Another benefit of TRX straps is that they are highly portable and can be used anywhere, making them a great option for those who like to workout at home or while traveling. All you need is a sturdy anchor point, and you can get a challenging workout in no time.
TRX straps are also a low-impact form of exercise, which can be beneficial for those with joint pain or injuries. Because the straps provide a stable and supportive platform, you can perform exercises without putting undue stress on your joints.
Overall, TRX straps are a versatile and effective fitness tool that can help you achieve your fitness goals. Whether you're a beginner or an experienced athlete, you can benefit from the wide range of exercises that TRX straps offer. With their portability, low-impact nature, and ability to engage multiple muscle groups, they're a great addition to any workout routine.
The TRX Suspension Trainer allows for a personalized workout where the participant can choose the intensity and difficulty of each exercise. Our Spin + TRX and TRX classes are energetic classes with fun music and a variety of exercises, taught by motivating instructors. All of our instructors that teach a Spin + TRX or TRX class have successfully completed TRX training courses.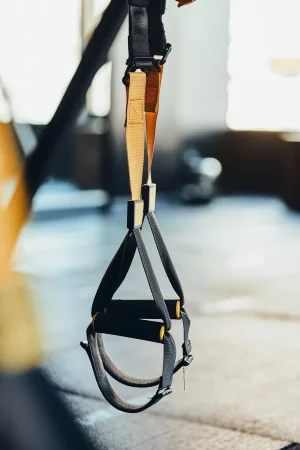 5 Benefits of a TRX Workout